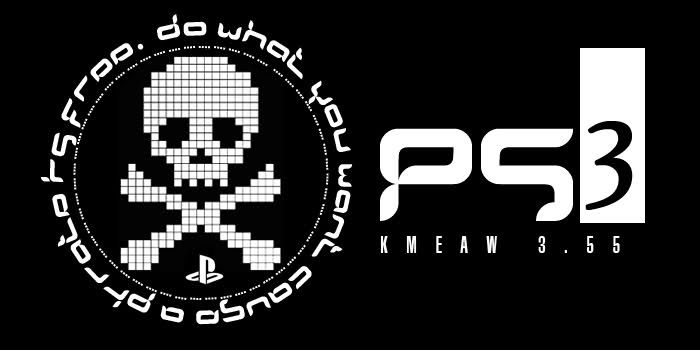 Step 1- Download :
                   OR
http://www.megaupload.com/?d=H6HLS7CN
Step 2- Extract the CFWkmeaw.PUP to USB:/PS3/UPDATE (MAKE SURE USB IS FAT32)
Step 3- Rename to PS3UPDAT.PUP
*If your on Official 3.55 continue if not recomend to update to 3.55 official*
Step 4- Plug Into Ps3 ---> Settings ---> System Update ---> Storage Device ---> Start 3.55 Kmeaw Update
Step 5- Install it, once its Finished

PART 1 COMPLETE!

Part 2: Installing Backup Manager

Step 1- Download :
                       OR
http://www.megaupload.com/?d=JE3H0N0F
Step 2- Extract one of the .pkg to the root of a usb drive (I recommend "GAMEZ")
Step 3- On Ps3 Plug in usb got to install packages
Step 4- Install the Gaia Manager
Step 5- Finished!


Part 3: Transfering Games
There's 3 Method's of transfering games:
1- FTP
2- Usb Hard-drive
3- Disc In Ps3 and use whatever to rip it
Method FTP



FTP Method (Over Network Or Ethernet Cable)
Two Options Network as in Ps3 + PC & Internet Wired Recomended (DON'T USE WIRELESS
or Ethernet Cable PS3 ---> PC Mentioned to be the best Anyways

ON PC
Step 1- Download FileZilla
                       OR
http://www.megaupload.com/?d=XU3LSHHV
Step 2- Install It

ON PS3
*If you never ran gaia manager before run it now because it would create the "GAMEZ" folder*
Step 1- Download FTP BlackBox, then Extract .PKG to root of usb
Step 2- Install it via Install Packages on PS3
Step 3- Start FTP Black Box

ON PC
Step 1- Open FileZilla
Step 2- File ---> Site Manager
Step 3- General: Host: IP shown on the FTP BlackBox on PS3
Port: 21
Login Type - "Normal" or "Anonymous"
User - FTPD12345
Pass -
Step 4- Transfer Settings: Transfer mode: Active
Limit number of simultaneous connections: Check
Maximum number of connections: 1
Step 5- On FileZilla Press Connect and you should see the ps3 files on the right side then navigate to find the GAMEZ folder then on the left side (PC) find the game you want to transfer
then drag it over to the GAMEZ folder
Step 6- Now it will transfer to the PS3 Time will depend on the connection and size
Step 7- If you get a disc read error it could be because you'll need to run fix file permissions

The Usb Hard-Drive Method
Part One Formatting the usb hard-drive
*If it's Fat32 your almost good to go (just to transfer the game)
So jump to Part 2
Step1- My Computer Right Click on the hard-drive
Step2- Check The file format
*If anything else you'll need to format it to fat32*

Step3- Download Fat32Formatter
                       OR
http://www.megaupload.com/?d=1DXCGZT3
Step4- Extract it to C:\ (your main PC harddrive)
Step5- On My Computer check the letter drive of the usb hard-drive
Step6- Before opening cmd hold shift + Ctrl then press enter
Step7- Navigate to the fat32format folder then fat32format.exe
Step8- After type (Change X with the drive letter of your usb hard-drive): fat32format X:
Step9- Make Sure it's the right letter before you type Y then enter
Step10- Let it do the process and you should be done.
Part 1 Complete!

Part Two Transfering Games To Usb Hard-drive
Well it's actually just a simple drag and drop
The ps3 game is in a folder called (ID OF THE GAME) plus without the: -
In X:\GAMEZ\(Here will be all the folders with the ps3 game inside)

Part 4: PSN Online Access


*Recomended to have network disabled until when you need the network/connection*
Download: 3.56 Spoofer
Step1- Turn on the ps3 and install 3.56_Version_Spoofer.PKG (Dont run anything else first)
Step2- Run the 3.56 Version Spoofer (will be added soon)
Step3- Once it loaded Press x to install.
Step4- When Status says install complete reboot, press & hold ps home button then trun off ps3 console
Step5- Turn on the PS3 and now it should be 3.56 spoof, check system info and it should now say 3.56.
Step6- Download fckpsn from (will be added soon) and follow instructions of that guide
Step7- Download: (link will be added soon) and then Install Wipe_History_v2.0.pkg and lv2-v9.pkg
Step8- So as recomended have network disabled and when you want to access before turning on: run wipe history then fckpsn then enable it.

*Note* You need run Wipe History every time before turning on the network also if your wanting to play a backup run Wipe History after you mounted the game then turn on the network**

Part 4 Complete!

Other Homebrew:
- Backup Managers
* MultiMan
v 1.16.00 *Requires BDEMU to be installed*

                       OR
http://www.megaupload.com/?d=H4LZX747
BDEMU *Install MultiMan Then BDEMU*
http://www.megaupload.com/?d=636WLKVM
v 1.14.00

                       OR
http://www.megaupload.com/?d=CXP0PSFY
* Rogero Manager
v 7.8
http://www.megaupload.com/?d=BYEAZF6S
- Emulators
*FBAnext:
*FCeu:
*Genesis Plus GX:
*Mednafen
*ScummVM GX
*Snes9x:
*VBA-ps3:

PC Programs:
*Md5 Check

                       OR
http://www.megaupload.com/?d=PFV43HE3

Warning: Sony has released Firmware 3.56. Updating is not recommended. Once a safe solution is found it will be posted here.